"Come and see what God has done, how awesome His Works..." Psalm 66:5
Established in 1985, it's no wonder this Maui Bed and Breakfast, located between historic Lahaina town and the beach resorts of Kaanapali, is recommended by guests on TripAdvisor.com, Frommer's, LonelyPlanet.com, Fodor's, and many more!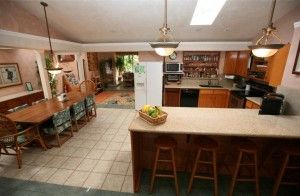 Currently priced at $169 – $189 per night ($179 - $199 starting Dec 15th, 2018), Maui's Guest House B&B is for those who want to stay away from the plastic style resorts and experience the "real" Maui in a safe, quiet, nondescript, residential neighborhood where one can enjoy all the "local" flavors and folklore, yet have all the conveniences of home.
Conde Nast Traveler readers have named Maui the "Best Island in the World" 15 times. Come and see why!
Why do over half of our guests return more than once to this Lahaina Bed and Breakfast? Because they have found the place on Maui which they can truly call "their second home." Each of our four guest rooms is designed for maximum privacy and romance, while the open areas of the Maui Guest House are set up for home style comfort and convenience.
How many times in life will you get a chance to see an active volcano? For those who wish to venture over to the Big Island of Hawaii for a chance to see Kilauea (active since 1986). The two Keaau Place Studios are only a 20 minute drive from Hilo International Airport, 40 minutes to Volcano National Park.
Each of the two Keaau Place Studios are prefect for a romantic getaway. Enjoy barbecuing on a huge private covered deck or just soak in your own private hot tub!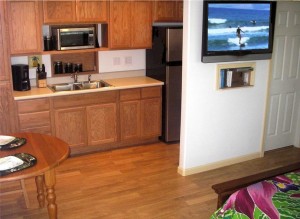 The queen size bed is fitted with a Tempurpedic mattress, there is a large collection of DVDs to watch on a 42" flat screen TV, and if you bring your laptop, there is no charge for WIFI.
From the 3-D Laser show at the 'Imiloa Astronomy Center, to the free Pana`ewa Rainforest Zoo and Gardens, or the tour of the famous Macadamia Nut Farm, come and explore all the unique things that the Big Island has to offer!
Explore The Keaau Place Studios Vacation Rental property, located on the Big Island of Hawaii.
Avis
and
Budget
.
On Maui, have the convenience of picking up your car at either the Kahului International Airport (OGG), which is about a 30 to 45 minute drive to Lahaina or, Maui's smaller regional airport on the west side, Kapalua Airport (JHM) which is about a 10 to 15 minute drive to The Maui Guest House.
On the Big Island of Hawaii, Hilo International Airport (ITO) is only a twenty minute drive to The Keaau Place.
Take advantage of our travel agent Discounted Car Rental Rates on all the islands!
Too many choices? We rely heavily on the actual unbiased reviews and opinions of our guests and the safety record of the individual venders, to narrow the activity selection process to a manageable size. Some of our venders, such as The Old Lahaina Luau (rated not only best on Maui, but best in the State) have been with us since the beginning, and others, such as the new SkyLine Hawaii Zipline, have just been added to our repertoire this past year!
Now it's up to you!
Browse our links, decide on time and budget, and give us a call or drop us an email so we can give your dreams the individual attention needed to create the next chapter in the great adventure of your life!